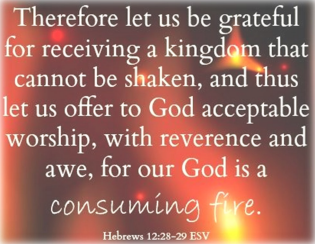 I Won't Tell You Again
Hebrew 12.25-29
Both God's conveyance of the Law at Mt Sinai and the extraordinaire blessings of the New Covenant involved God Speaking to us, but now the author brings to a head a running motif in v25, "See that you do not refuse him who is speaking. …" There are no other avenues unto heaven.
There is no message audio available for this service.
Video for this service is available only via Facebook.